Real Food. Low Sugar. No Stevia!
Soft-baked, low carb, low sugar snacks made with real food ingredients, naturally designed to help diabetics manage blood sugar* with NO STEVIA or sugar alcohols
Shop Now
What makes us different?
Wholesome Ingredients

Made with almonds, flax seeds, and chia seeds, our snacks give you real nutrition from real food

Lightly sweetened

We lightly sweeten our bites with organic maple syrup - no stevia or sugar alternatives

Cake-like Texture

Our bites are soft-baked for a dense and moist texture that feels like cake, but functions like fuel.
How we compare
OUR INGREDIENTS:

ALMOND FLOUR

ORGANIC CASHEWS

ORGANIC MAPLE SYRUP

ORGANIC APPLE SAUCE

ORGANIC DUTCH PROCESS COCOA POWDER

(PROCESSED WITH ALKALAI)

ORGANIC HAZELNUTS

ORGANIC CHIA SEEDS

ORGANIX FLAX SEEDS

ORGANIC VIRGIN COCONUT OIL

PINK HIMALAYAN SALT

SAIGON CINNAMON

See more NUFS vs. THEM

THEIR INGREDIENTS:

ORGANIC CASSAVA FIBER, ORGANIC ALMOND FLOUR, ORGANIC DATES, ORGANIC SOY PROTEIN CONCENTRATE, SUGAR-FREE CHIPS (UNSWEETENED CHOCOLATE‡, ERYTHRITOL, COCOA BUTTER‡, SUNFLOWER LECITHIN, STEVIA EXTRACT), ORGANIC SOY FLOUR, UNSWEETENED CHOCOLATE‡, WALNUTS, ORGANIC ALMOND BUTTER, ORGANIC ERYTHRITOL, COCOA‡, NATURAL FLAVORS, ORGANIC HIGH OLEIC SUNFLOWER OIL, ORGANIC VIRGIN COCONUT OIL, ALKALIZED COCOA‡, SEA SALT, BAKING SODA, SOY LECITHIN, MIXED TOCOPHEROLS (ANTIOXIDANT), STEVIA EXTRACT

See more NUFS vs. THEM
So yummy, flavorful, and filling.. and they're low carb! I didn't have to give ANY insulin and they didn't spike my glucose levels!

I'm really discerning about the foods I eat, especially if they're packaged. Nufs are just right!

These are energy bars for people who hate energy bars. They're a delicious and healthy on-the-go snack!
Peanut Butter Cacao Nib
The classic taste of peanut butter with a cacao nib crunch, balanced with a little salt.
Shop Now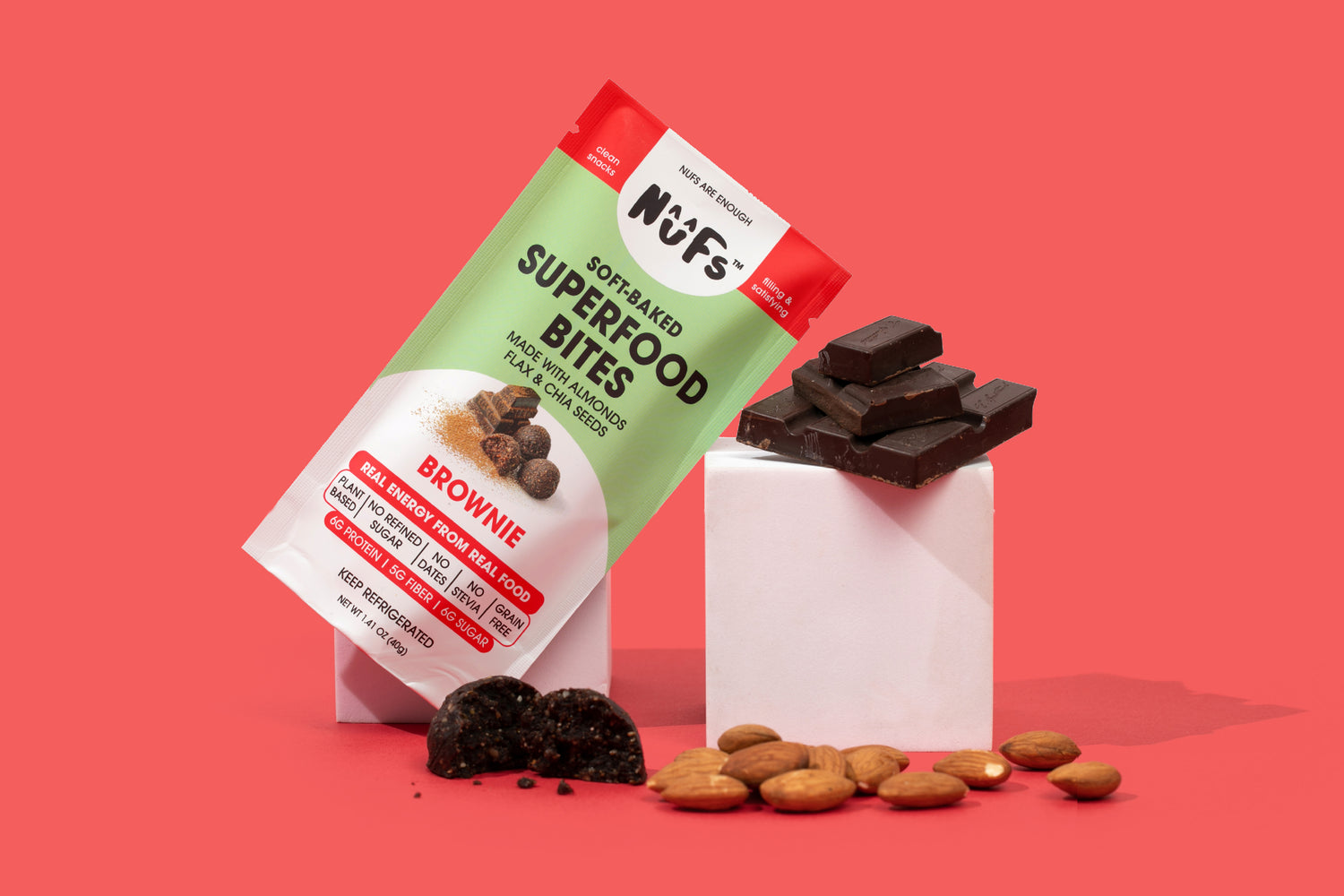 Brownie
Decadent and chocolatey like a bakery brownie but with 80% less sugar and 100% more nutrition from nuts and seeds. You'll never have a regular bakery brownie again!
Shop Now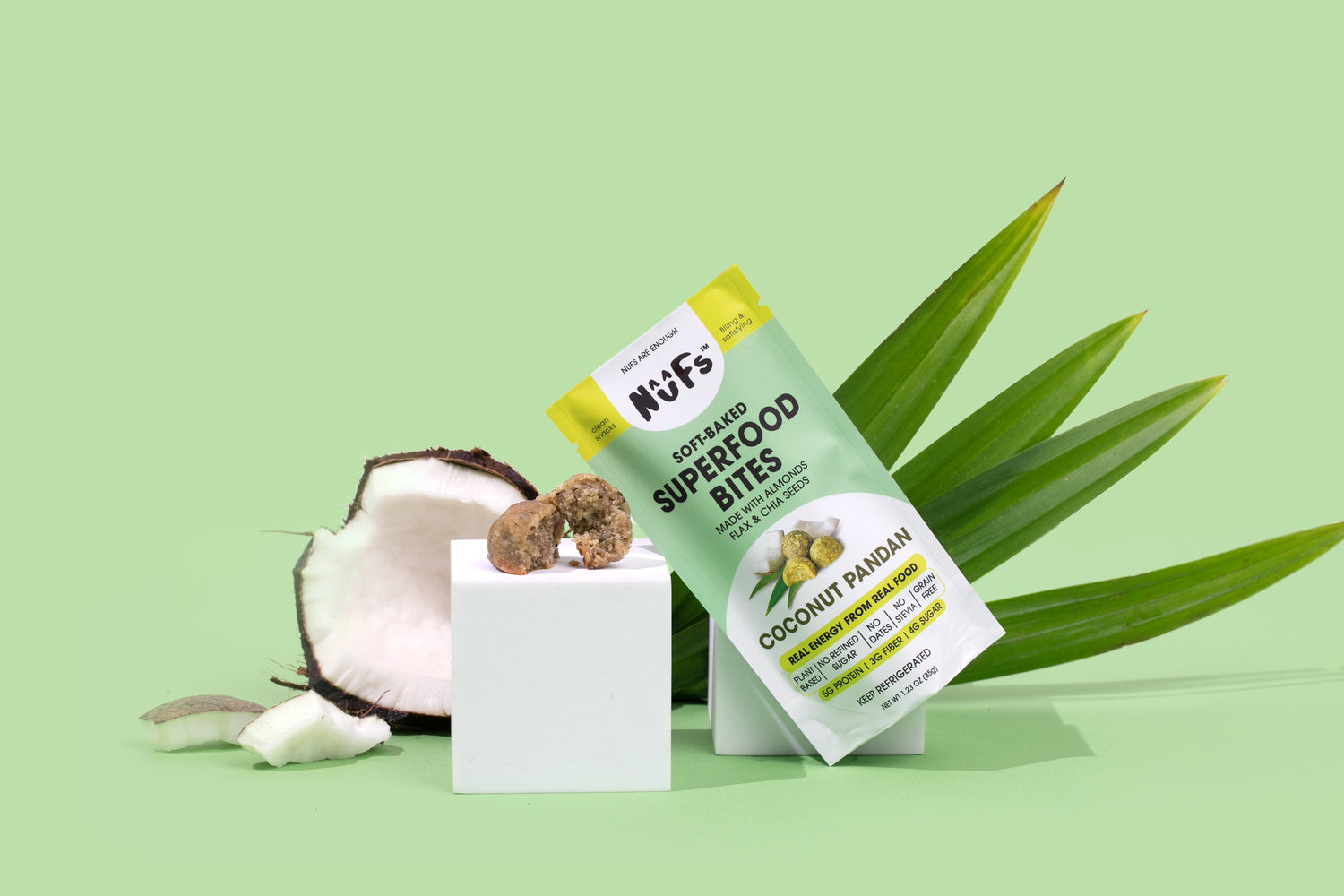 Coconut Pandan
The delicate taste of coconut with a grassy-vanilla aroma from the Pandan. Pandan is a leaf from Southeast Asia, often considered 'The Vanilla of the East'. Some people say it tastes like banana bread!
Shop Now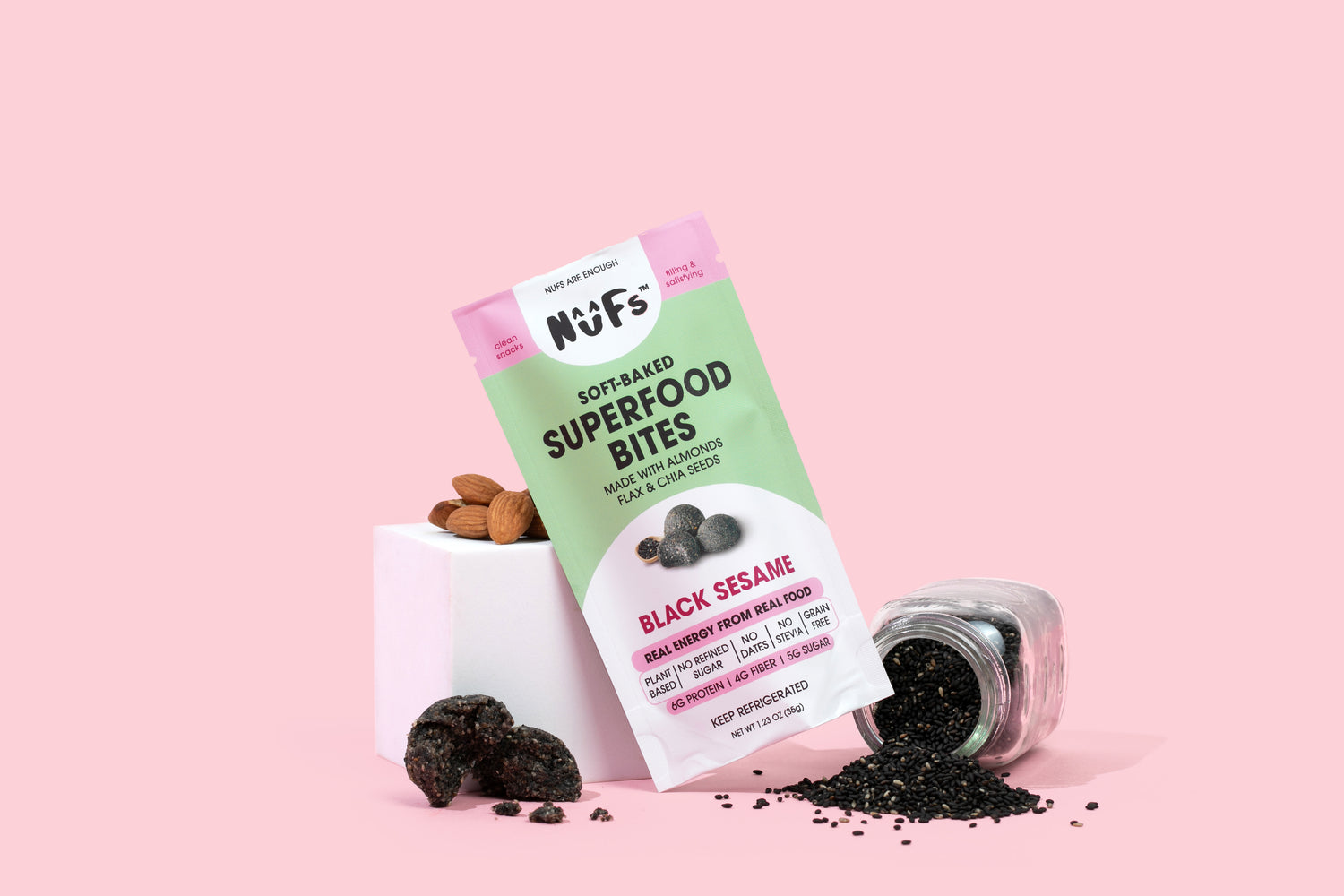 Black Sesame
We like to call this 'Peanut Butter's fancy cousin' for its nutty, but sophisticated flavor profile. So tasty and so nutritious. Black Sesame is a great source of magnesium & calcium from whole foods!
Shop Now
Orange Ginger
A citrus note on the front with a spicy ginger kick. We use real ginger juice and real ginger powder to get that authentic ginger heat.
Shop Now
The Complete Set
Regular price
Sale price
$94.00 USD
Unit price
per
Sale
Sold out
Share
View full details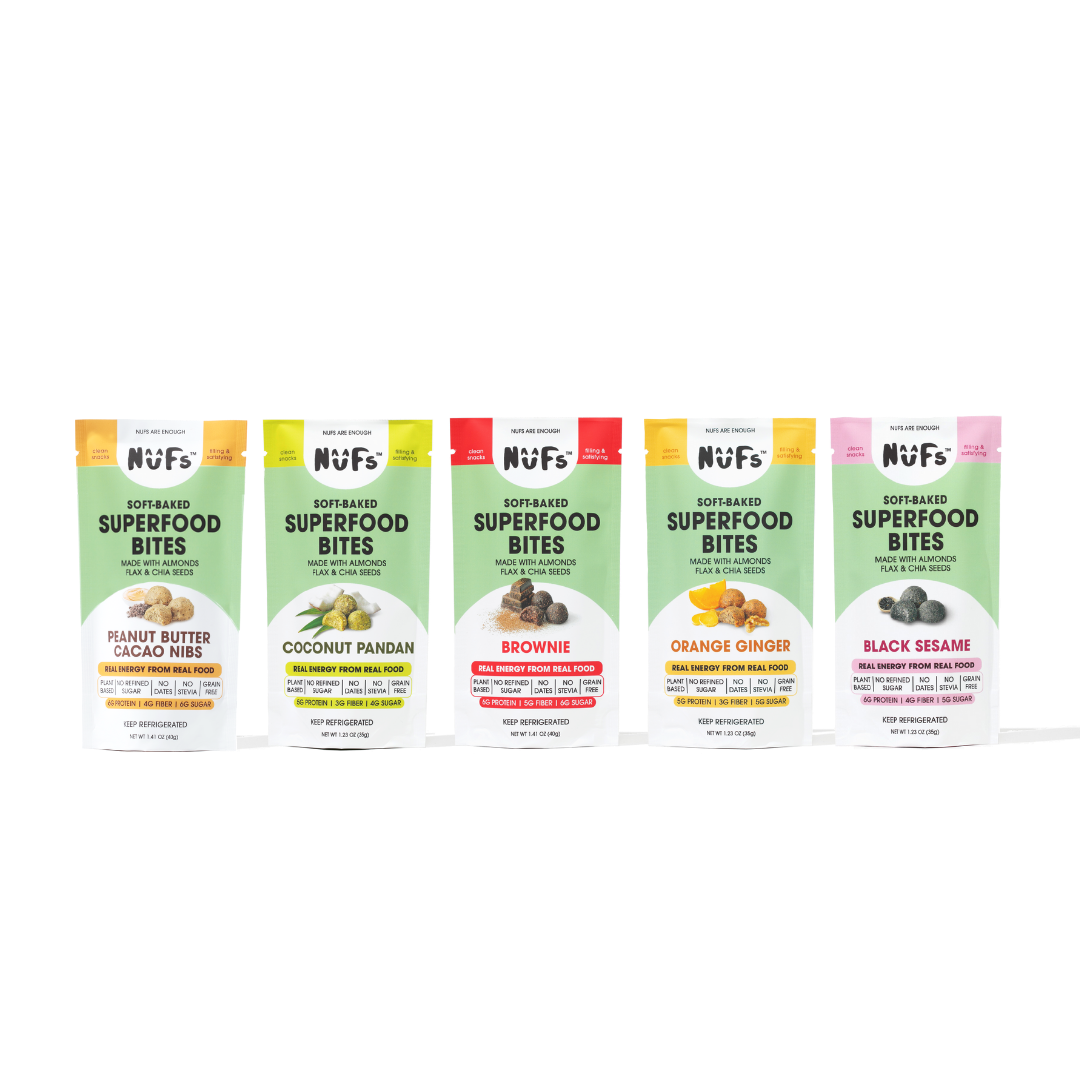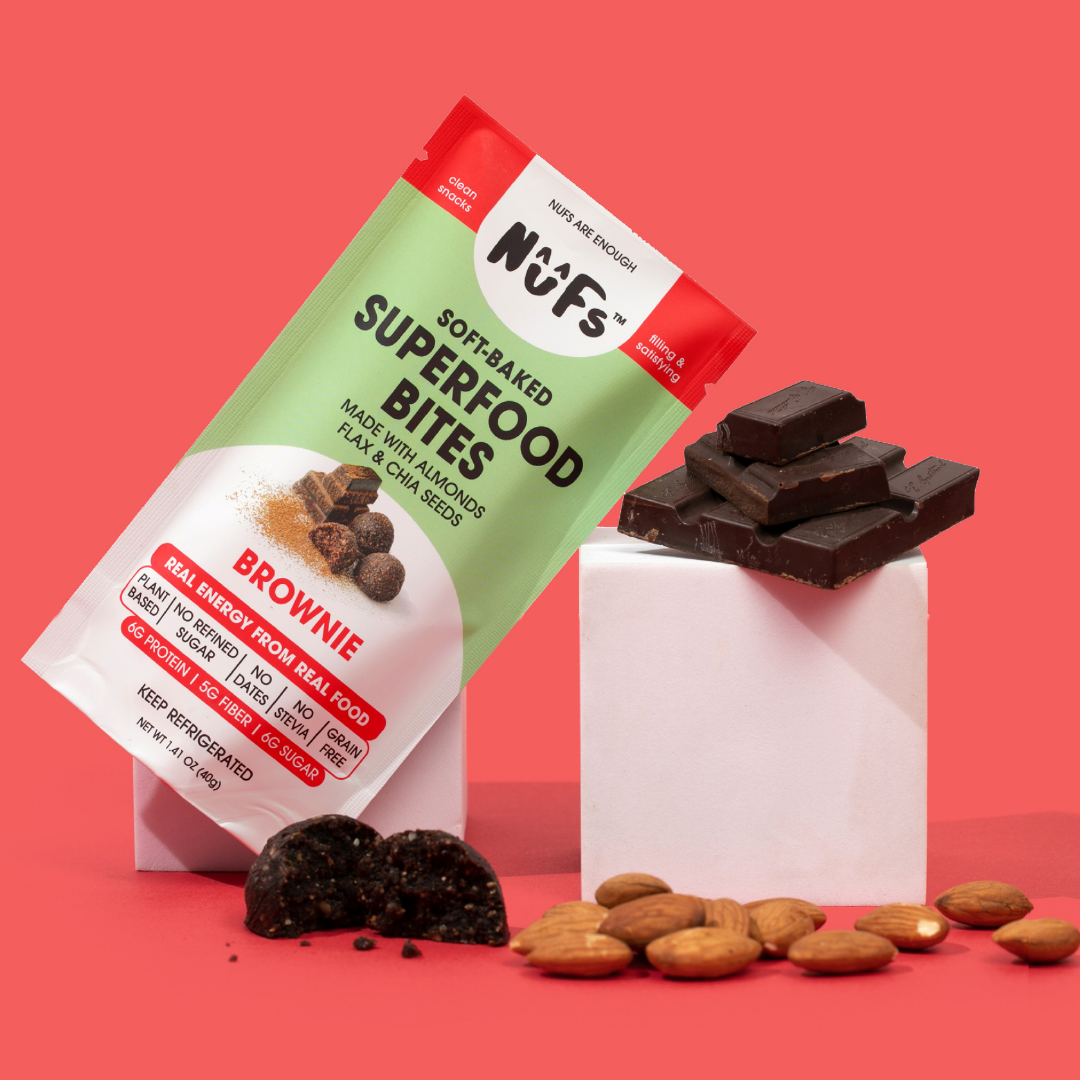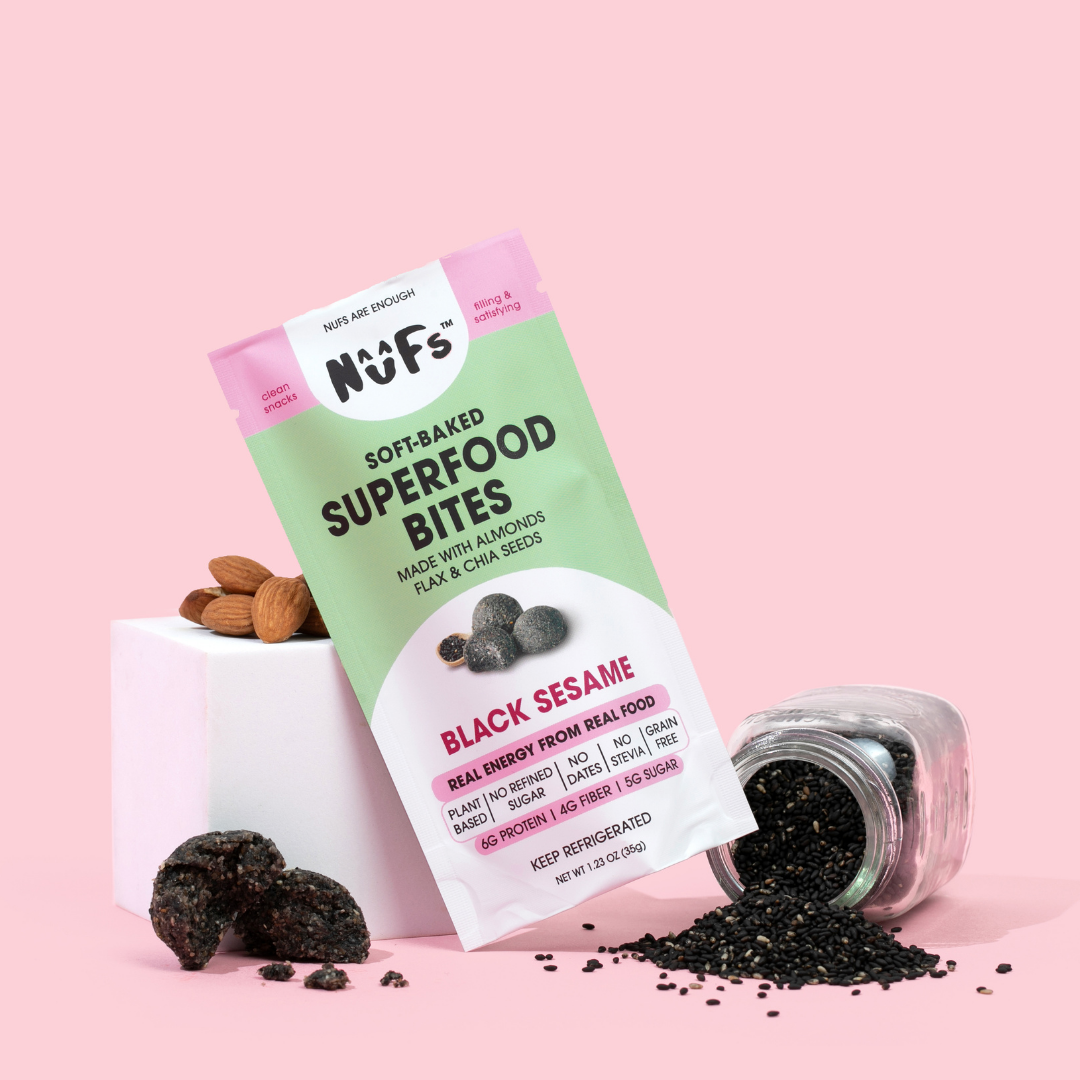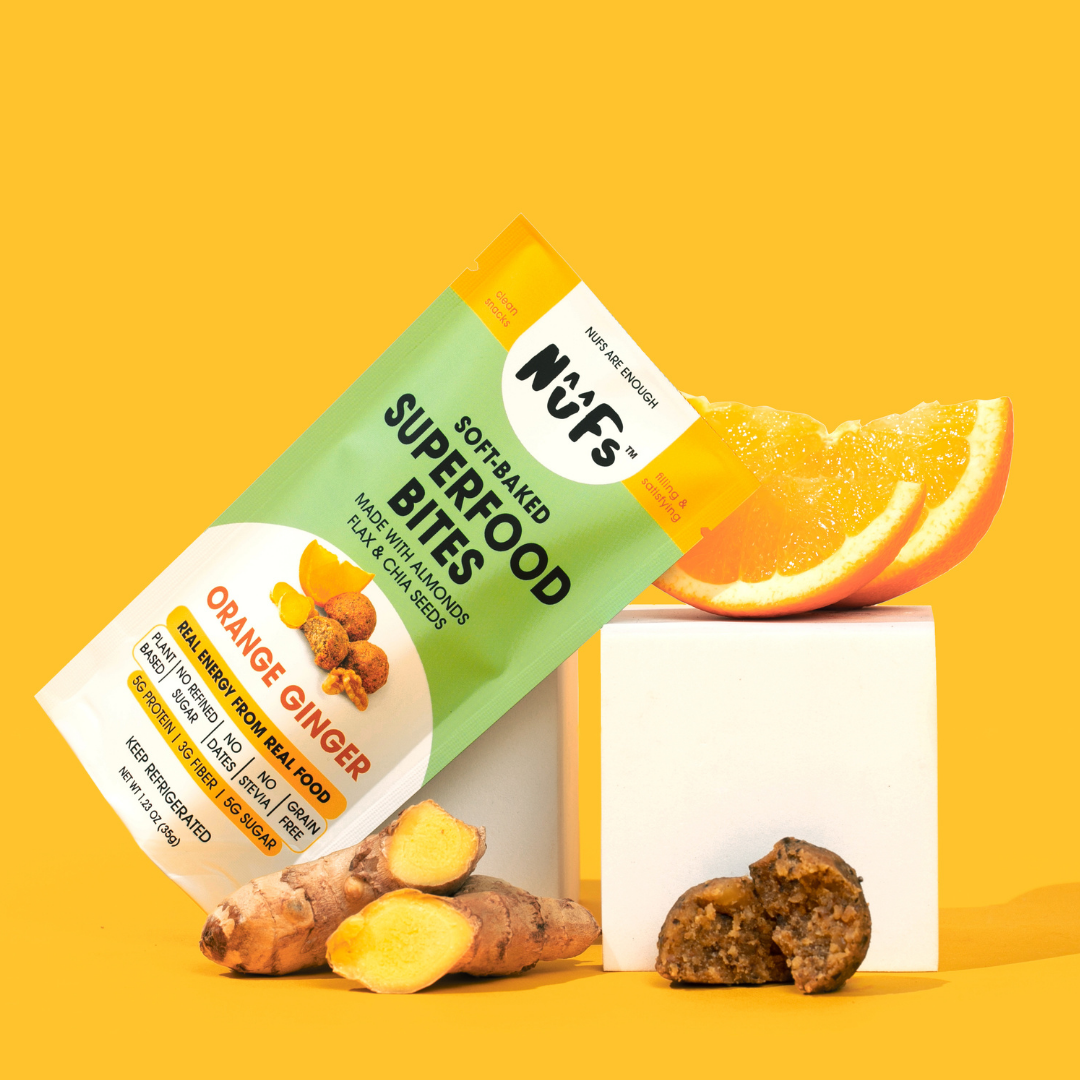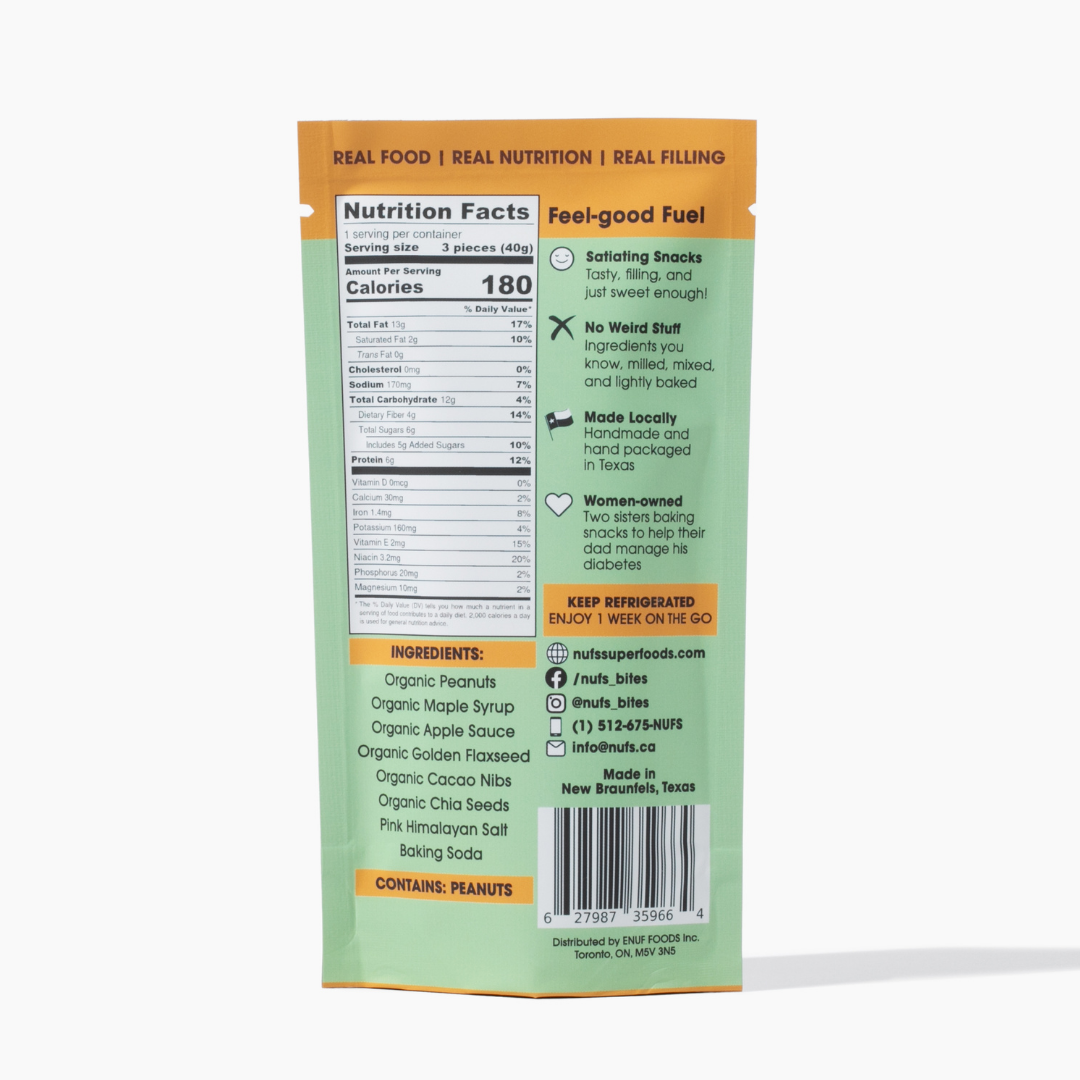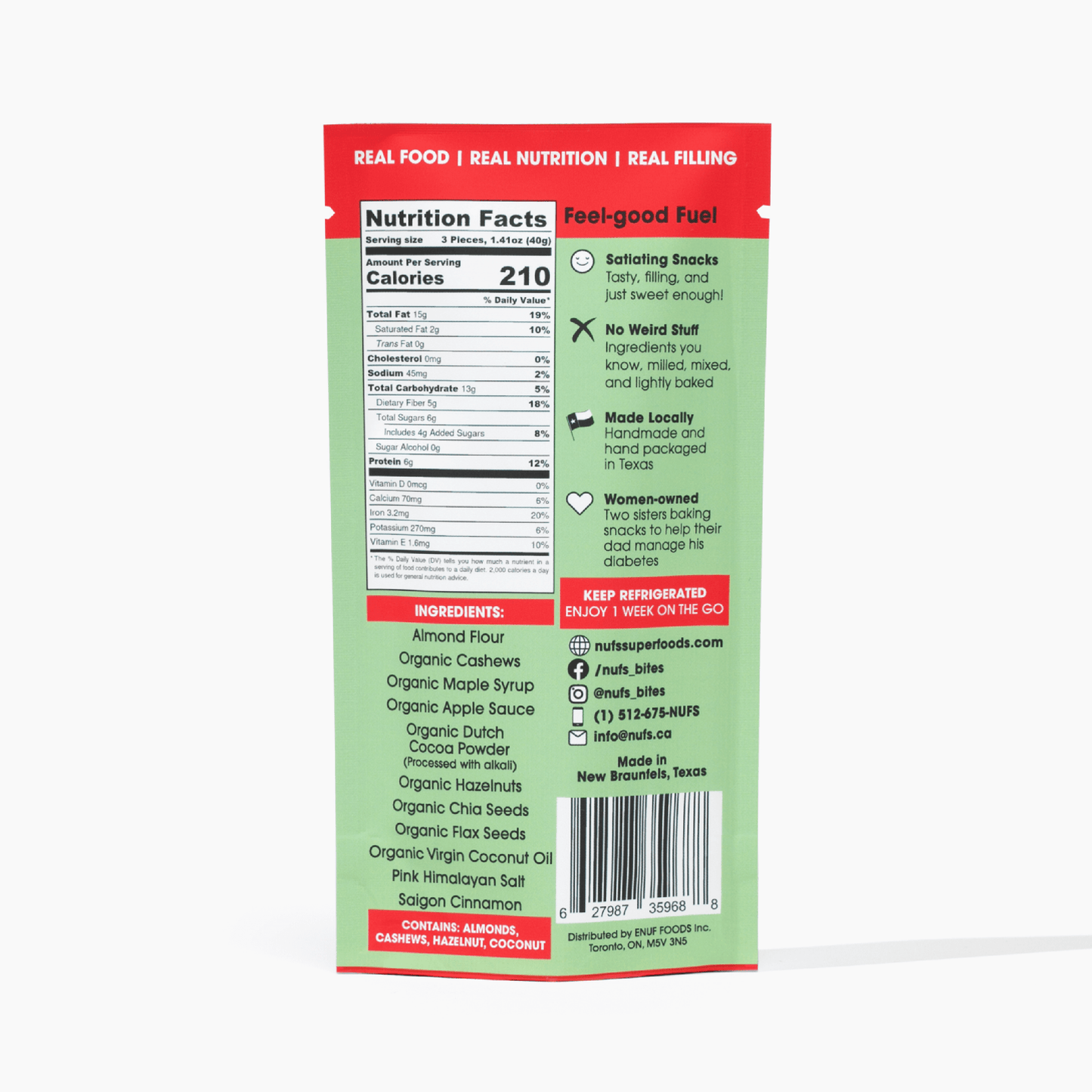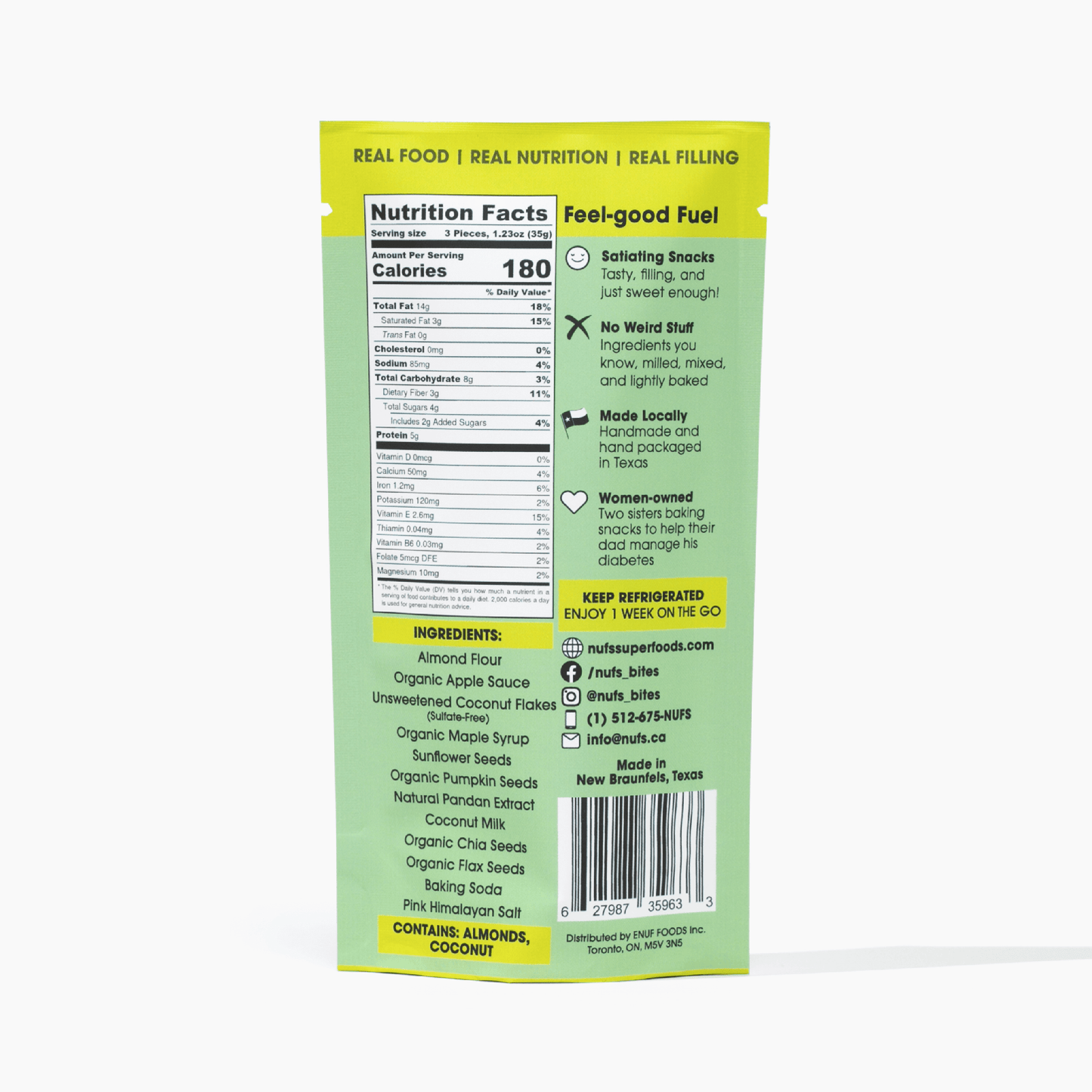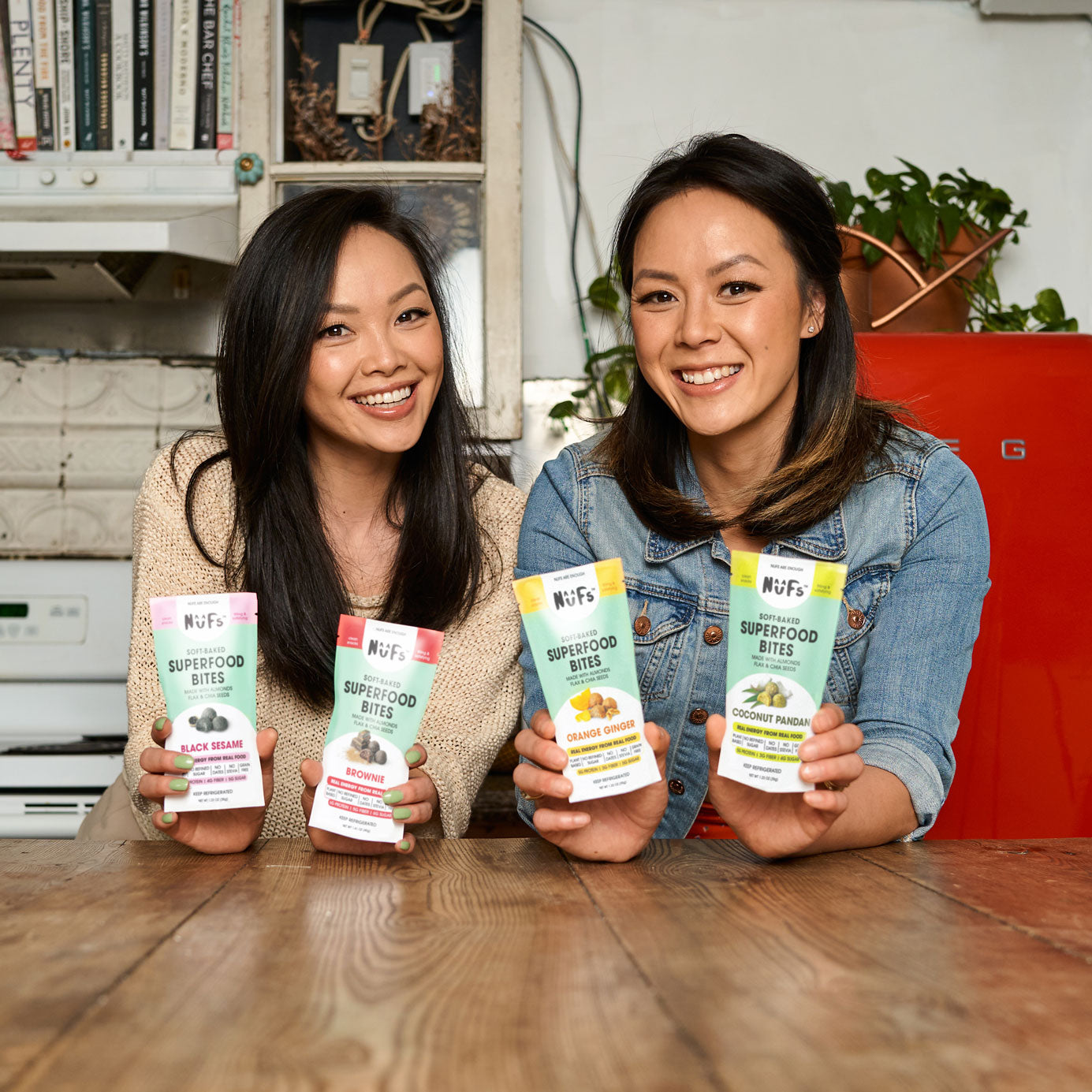 Our Story
We started Nufs after our dad was diagnosed with diabetes. It was hard to find clean ingredient, low sugar, and filling snacks he would enjoy. Eating less sugar often meant having to choose artificial sweeteners and sugar alternatives that were overly processed and much too sweet!

We started Nufs to make nutrient-dense, lightly sweetened snack that are a delight to eat and are nutritionally balanced.

Our snacks are sweet enough!
Our snacks are filling enough!
And our snacks are nutritious enough!

When you're looking for a snack, Nufs are enough!
The FAQs
How do Nufs prevent blood sugar spikes?

Nufs are lightly sweetened and crafted to be nutritionally balanced with enough fiber, protein, and good fats to moderate sugar absorption into the body.
Why don't you use stevia or other sugar alcohols?

Let's be real: Stevia (more often than not) doesn't taste great and sugar alcohols are bad for your gut. Our goal was to make a diabetic-friendly snack that was naturally delicious and we were able to make that a reality but lightly sweetening our snacks so they're not too sweet, but just sweet enough!
Why don't you use dates?

Dates are delicious and nutritious, but they're also really high in sugar. We chose to use organic maple syrup because it's a low glycemic sweetener and it makes it easier for us to moderate how much sweetness is in our snacks!
How long are these good for?

We don't use any preservatives or additives so our bites are kept refrigerated for freshness.

Good in the fridge for 3 months.

Good on-the-go for 7 days.

Good in the freezer for 1 year.